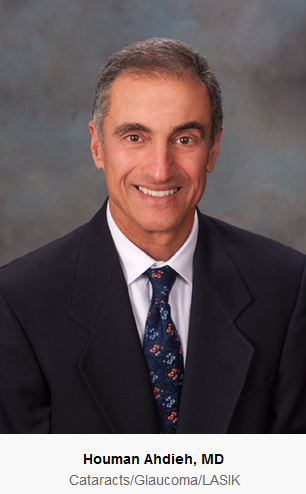 Press Release – updated: Feb 20, 2018
Allentown, PA, February 20, 2018 (Newswire.com) –
The Lehigh Valley Center For Sight is proud to announce the availability of IntraLase/Bladeless LASIK eye surgey.
Lehigh Valley Center For Sight Managing Doctor and Certified IntraLase/LASIK eye surgeon, Houman Ahdieh, M.D. said, " Our doctors understand that no two patients are the same and neither are their eyes. That is why we offer our patients the personalized LASIK "Blue-Print" approach, specifically tailored to their eyes. We now offer Bladeless LASIK. IntraLase is blade-free laser technology that performs the first step of the LASIK procedure, creating the corneal flap. IntraLase improves the overall safety profile and visual results of LASIK. The IntraLase laser is dramatically less likely to produce seriously thin flaps or extremely thick flaps, events which could lead to complications."
"IntraLase is the most sophisticated and accurate technology for corneal flap creation available today, and has given patients greater confidence in choosing vision correction surgery. The higher degree of assurance and safety, virtually no risk of severe sight-threatening complications and more predictable outcomes have been shown to increase patient satisfaction in their LASIK experience and outcome. Intralase eliminates the most severe microkeratome-related complications, including invasive corneal incisions and button-hole flaps. Patients achieve statistically better vision when IntraLase is used in the LASIK procedure. Micron-level precision creates significantly more predictable and accurate flap dimensions, including, most critically, reproducible flap thickness, within ± 10 microns, whereas variability with microkeratomes has been reported up to ± 40 microns. This increased precision preserves valuable corneal tissue and improves the predictability of the LASIK treatment. In addition, the number of LASIK retreatments or enhancements is significantly lower for laser-created corneal flaps, avoiding the patient inconvenience of subsequent surgeries and the increased surgeon costs entailed with reoperations. In several clinical studies, standard tests performed to diagnose dry eye show a significant reduction in symptoms, the largest of which shows patient symptoms were reduced by 72 percent. This lower occurrence of dry eye symptoms may be due to the uniform and typically thinner flap, creating less disruption of nerves in the cornea. The laser flap can be tailored to the individual patient's needs, allowing physicians to individualize all steps in the LASIK procedure" concluded Dr. Ahdieh.
The Lehigh Valley Center for Sight has been the practice of choice for thousands of LASIK patients since 1999 Thousands of people have turned to the experts at the Lehigh Valley Center For Sight for this life-changing procedure – including many local physicians and nurses.
Call to schedule a free 1-hour consultation, where you will meet with your surgeon to help you decide if LASIK is a good option for you. Our experienced staff will guide you through the process and answer any questions you may have. Our practice offers discounts through major vision and health insurance providers. We also offer financing options with approved credit so you can pay for your procedure over time.
More About Lehigh Valley Center For Sight
Founded in 1998, Lehigh Valley Center For Sight has helped many patients with their eye care needs. The practice's mission statement is "The doctors and staff at the Lehigh Valley Center for Sight are totally committed to providing complete eye care with the highest level of excellence to our patients and surrounding community from our highly trained doctors in concert with advanced technology." They also insist on unsurpassed customer service along with patient education. This combination of services enables them to be the office of choice for quality eye care in the Lehigh Valley.
To learn more about Lehigh Valley Center For Sight, you should call 610-437-4988 or visit them online at https://www.lvcenter4sight.com.
CONTACT INFORMATION Lehigh Valley Center For Sight
Attention: Jenelle Triscari
1739 Fairmont St.
Allentown, PA 18104
and
3959 William Penn Highway
Easton, PA 18045
Phone: 610-437-4988 Fax: 610-437-4176
Website: https://www.lvcenter4sight.com
Email: eyedoc@lvcenter4sight.com
Source: Lehigh Valley Center For Sight